Reinert Bärchen
The Sausage with a Smile
A tasty treat (not only) for children. Reinert Bärchen is one of the most beloved children's sausage brands in Germany. A real classical showstopper!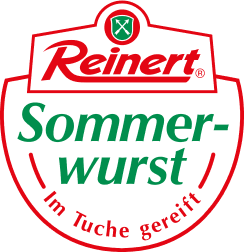 Reinert Sommerwurst
The Westphalian Original
Made according to Hans Reinert's original 1969 recipe. The special flavor comes from maturation in a cotton cloth!

The fresh and modern kitchen
Whether hot or cold: fine gourmet smoked ham cut into convenient cubes, good for a variety of uses. Or just for snacking!

Reinert Chambelle
Sausage meets Cheese
German craftsmanship meets French indulgence - and the dignified taste of connoisseurs. Ham or salami plus cheese. Twice as good!